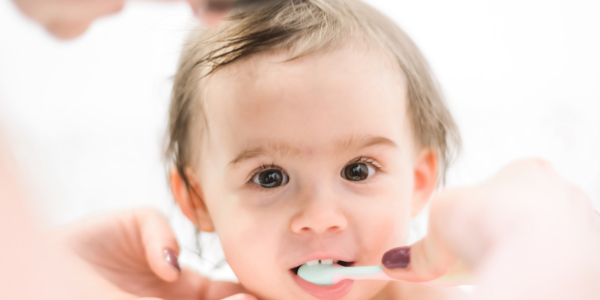 How To Take Care Of Your Baby's Oral Health
April 7, 2021
---
Did you know that cavities are one of the most common diseases of childhood in the U.S.? With that being said, untreated cavities can also cause a lot of pain for your young child and may even hinder their natural abilities to play, eat, learn, speak, and sleep. That's why it is important to take proper care of your child's teeth when they themselves are unable to. The great news is that with the proper care, cavities in your child are preventable. Fluoride varnish can prevent about 1/3 of cavities in your baby's teeth. Follow the daily routine that the CDC For Child's Oral Health recommends down below to help your child's baby teeth stay healthy and cavity-free.
Step #1
Wipe gums twice a day with a soft, clean cloth in the morning and right before bed to wipe away bacteria and sugars that can cause cavities.
Step #2
When teeth come in, start brushing twice a day with a soft, small‑bristled toothbrush and plain water.
Step #3
Visit the dentist by your baby's first birthday to spot signs of problems early.
Step #4
Talk to your dentist or doctor about putting fluoride varnish on your child's teeth as soon as the first tooth appears.
WE LOOK FORWARD TO MEETING YOU!
Once your child is ready for their first appointment, be sure to call ADC Dental Group. We would love to help your child continue to live a cavity-free life by scheduling regular dental cleanings and check-ups. We would be happy to answer any questions you may have. Furthermore, we want to make sure every new member of our community has their dental health needs looked after. Looking to become a new patient? Please call our Joplin dentist today!



Categorised in: Uncategorized