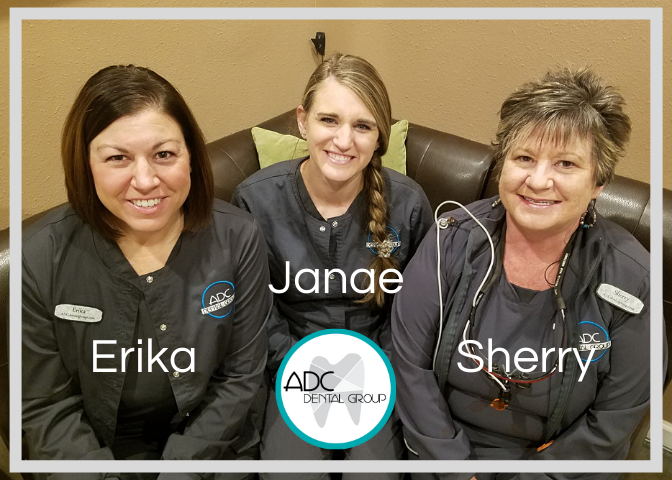 Dental Hygiene Month – Meet Our Hygienists
October 21, 2019
---
October is National Dental Hygiene Month. The holiday was created as an effort to celebrate the work dental hygienists do and to help raise awareness on the importance of good oral hygiene. Meet our experienced, friendly, and super-talented dental hygienists below!
Erika O'Malley, RDH
Erika graduated from the MSSU Dental Hygiene Program in 1996. In her 23 years as a hygienist, she has worked in general dentistry, served on the Hygiene Advisory Board for the State of Missouri, and she has been an adjunct clinical instructor for MSSU. Her first job, at age 16, was in a dental office and she has been in one ever since! Erika and her husband John have been married for 23 years and have two children: Ian, 18, and Quincy, 11. Erika has been part of the ADC team for three months now and has most enjoyed the family-friendly atmosphere so far. She says that she is "most looking forward to becoming a familiar face to all of our patients".
Sherry McConnell, RDH
Sherry graduated from MSSU in 1988 with an Associates Degree in Dental Hygiene and has been with ADC Dental Group for 23 years. She says that she feels "incredibly blessed to have a great boss, co-workers, and loyal, loving patients". Sherry has been married to her husband, Gary, for 39 years, and they have two daughters: Michelle, 34, and Mallory, 30. Michelle and her husband Jesse have a 5-year-old son, Nolan, who is her buddy. Mallory and her husband blessed their family with a new grandson, Wyatt, born September 15, 2019. She loves being a mimi! When Sherry isn't devoting her time to her home and work family, she enjoys going to the Spook Light with her friends – she says that she has seen the Spook Light many times.
Janae Dodson, RDH
Janae has over nine years of experience as a dental hygienist. She graduated from MSSU in 2010 with a Bachelors Degree in Health Science, with an emphasis in Dental Hygiene. She began working at ADC Dental in December of 2018, and is excited to soon be celebrating her one-year work anniversary. Janae and her husband, Ben, were married in 2011 and they're kept very busy by their two active little boys: Aiden, 4, and Asher, 2. In Janae's free time, she loves finding the best bargains in thrift stores, spending time with her family, and traveling.



Categorised in: Uncategorized