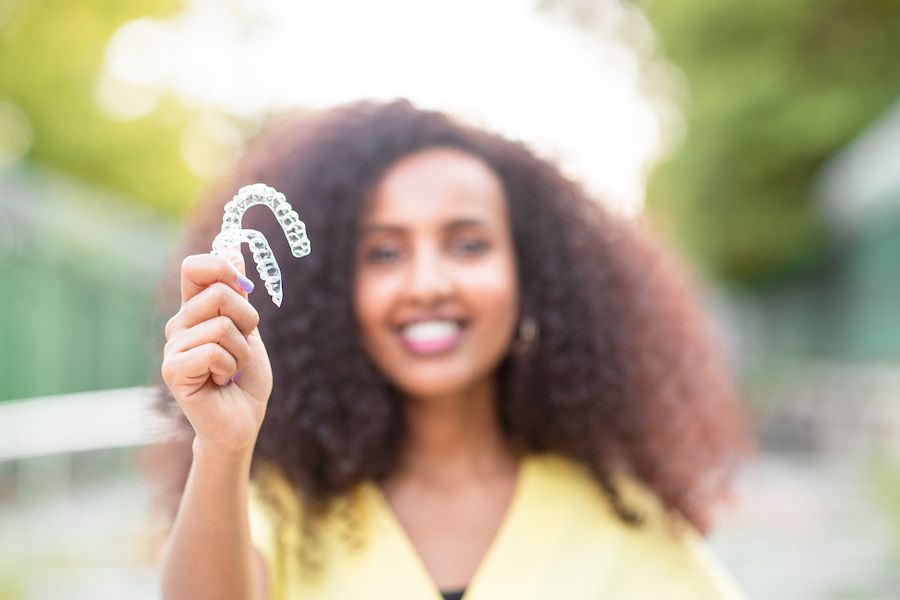 Can Invisalign Impact Your Gum Health?
February 28, 2022
---
If you have mild to moderate alignment issues, you might be a good candidate for Invisalign®! Invisalign clear aligner therapy gently moves your teeth and gives you a straighter smile. But does this treatment impact your gum health?
How does Invisalign work?
Before learning about gum health, let's review how Invisalign works. We'll first take impressions of your smile. In a few weeks, your first set of custom clear aligners will arrive. We'll make sure they fit correctly. To ensure great results, please wear your aligners at least 20-22 hours a day. When it's time to start the next aligner set, you'll come in for an appointment.
Will clear aligners hurt my gums?
It's possible for patients to experience some inflammation and discomfort when starting on a new set of clear aligners. This mild and temporary discomfort doesn't lead to permanent damage and should subside soon. The smooth plastic is comfortable and typically non-irritating.
Can clear aligners cause gum disease?
Aligners themselves don't cause gum disease but if you fail to clean them you will increase your risk of gum disease. After taking out your aligners to eat, always clean your aligners before putting them back in. Clear aligners can become home to gum disease-causing bacteria if they aren't cleaned enough. You should also brush and floss your teeth before putting your aligners back in. Clear aligners block your teeth from getting coated in saliva, which would normally help rinse away bacteria, so brushing and flossing are very important.
Invisalign at ADC Dental Group
At our Joplin office, our team is excited to provide patients with comprehensive dental services, including Invisalign clear aligner therapy. To avoid gum disease and cavities during the process, it's critical to clean your aligners, brush and floss at home, and visit our office for cleanings and exams. If you have any questions or want to set up a consultation, please contact us today!
Categorised in: Cosmetic Dentistry